Published 1/25/19 in Frederick News Post, by Heather Mongilio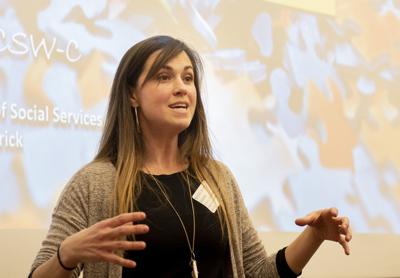 Kristen Dunn, a forensic interviewer with the Frederick County Department of Social Services, addressees a group at the Frederick County Human Trafficking symposium Friday at Frederick Community College. Staff Photo by Bill Green
A police officer approaches two women at Fourth and Market streets at 4:30 a.m. One of the girls, Mia, was covered in bruises. The other girl explained that Mia had been assaulted 30 minutes earlier.
That was the scenario presented before a packed room of law enforcement, health, social services and education professionals who were attending the Human Trafficking Response Team's first summit on human trafficking Friday.
The idea behind the scenario was for participants to break into groups and discuss red flags that would indicate human trafficking and next steps. Then they would get the next part of the scenario.
In Mia's case, she gave little information other than that her name was Mia Garrison and that she was 18. When she goes to the hospital, she produced an ID that identified her as 17-year-old Michael Garrison. She was a victim of sex trafficking.
The scenario was based on a real-life case handled by Amanda Rodriguez, chief counsel for the Policy and Legal Advocacy at the SAFE Center and University of Maryland. The organizers made the choice to include a scenario that involved a transgender victim of human trafficking to show that anyone can be affected, not just cisgender women, said Lindsey Carpenter, an assistant state's attorney and one of the co-organizers.
"Human trafficking doesn't affect just one person," Carpenter said.
The interactive case studies came at the end of the daylong conference. Along with members of the county's Human Trafficking Response Team, attendees also heard from Frederick County State's Attorney Charlie Smith, survivors, law enforcement and social workers. The conference was meant to raise awareness and train attendees on ways to help trafficking survivors, organizers said.
The conference was a recommendation of the Human Trafficking Task Force, said co-organizer Tressa Bell, but it also came out of a realization of that human trafficking happens in the county.
In 2018, Frederick Memorial Hospital identified five cases of human trafficking, the Frederick Police Department had six suspected cases, the county's sheriff's office saw three cases, juvenile services handled three cases and Heartly House had four confirmed cases and five suspected or at-risk cases, Carpenter said in a presentation.
While those who deal directly with human trafficking might not be surprised by the statistics, Heartly House's Heather Moreno, one of the conference co-organizers, said she thought there were people who would not expect that many cases.
"For a long time, I feel it's been a more hidden crime," Moreno said.
Attendees were invited from various organizations in the county and outside. There were people from the state's attorney's office, local law enforcement, FBI, the Department of Homeland Security, Heartly House, Child Protective Services and the county health department, among others.
For the first year, the conference had a targeted audience, Carpenter said, because the organizers figured there would be a lot of interest. But she was still surprised when the conference reached capacity.
Earlier in the morning, Carpenter and two law enforcement agents walked the attendees through some of the cases of human trafficking that happened in the county in recent years.
They also heard from Nicole Lee, a survivor of human trafficking who now gives talks to teach people how to better help trafficking survivors.
Lee was 17 when she was raped by the president of a school she was attending. That same day, she met her trafficker.
"There were times I tried to get away, and I couldn't," Lee said.
Lee did not come from an impoverished home, and she reminded the audience that anyone can be trafficked.
"I wasn't impoverished, and it happened to me," she said. "I went to private schools all my life, and it happened to me."
Lee spoke about the importance of empowering survivors, including through education. Survivors do not see their own beauty or intelligence. They do not always realized that they went through a trauma, she said.
They were able to survive for a reason, she said, and that can sometimes make it hard for people to help them. Survivors often say people do not see them, and that is something that the people at the conference can work to change.
"We want to make sure we see our survivors," she said. "And we reach them on an individual level and not clumping them together."