Published on 3/18/19 in The Calvert Reporter
By TYLER DIDRA Special to the Recorder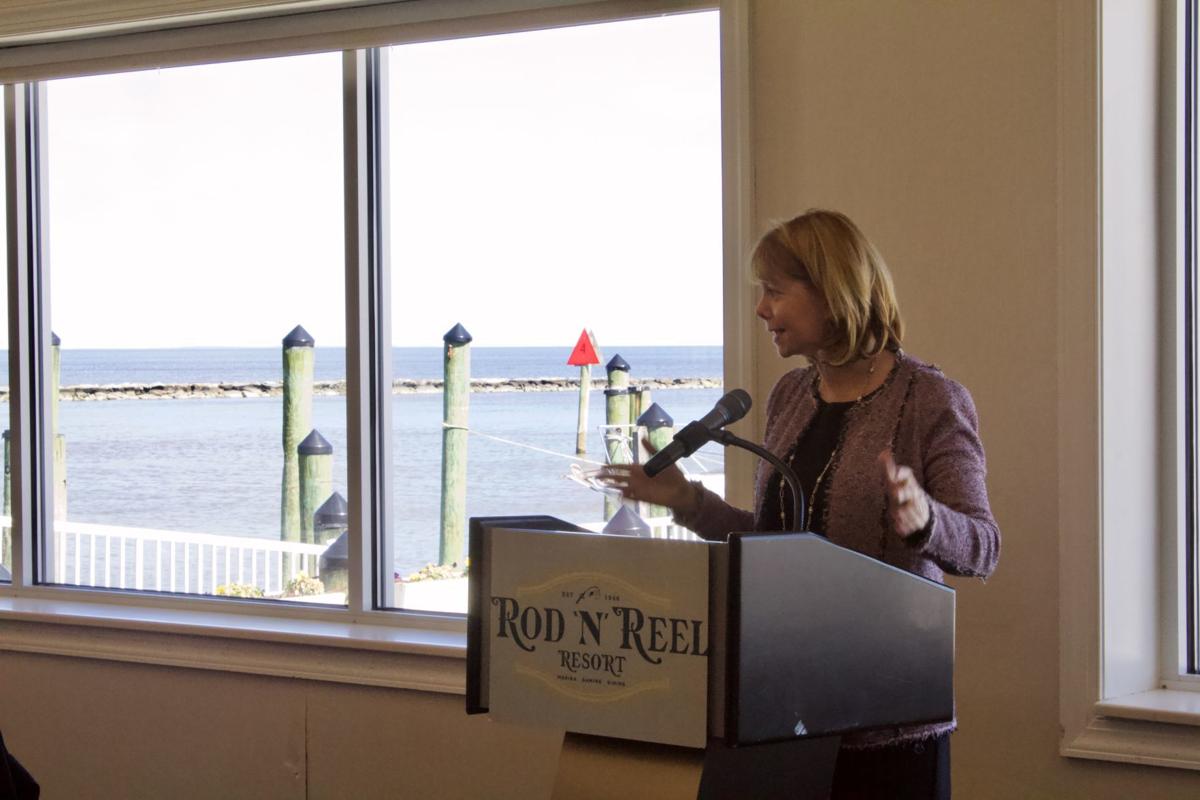 Guests speaker Ambassador Susan G. Esserman talks about the prevalence of sex and labor trafficking in Maryland.  PHOTO BY TYLER DIDRA
The Calvert County Commission for Women and the League of Women Voters of Calvert County celebrated Women's History Month together with its 17th annual Women of the World Awards Celebration and Luncheon at the Rod 'N Reel Restaurant in Chesapeake Beach.
The luncheon was especially meaningful this year, as 2019 is the 100th anniversary of the ratification of the 19th amendment, which gave women the right to vote.
"Women fought for that right," said Joan Winship, WOW co-chair and chair of the Calvert County Commission for Women. "Women struggled for decades. Much progress has been made, yet much is to be done."
The luncheon's theme this year was "Be the influence," an idea put forward by Carol Harvat, a member of the Calvert County Commission for Women.
"There are so many ways that so many people are influential in their own world, in their families and in their communities," Winship said. "We celebrate women today who have made a big difference in the lives of many through their work and their time, their leadership and their achievements."
This year's guest speaker was Ambassador Susan G. Esserman, a former deputy U.S. trade representative and founder and director of the University of Maryland Support, Advocacy, Freedom and Empower Center for human trafficking survivors.
Esserman spoke of the great strides women have taken in many different arenas, including politics, but she made it clear that there is still much work to be done.
"In order to promote the proper advancement of women in law or in any field, first and foremost, it is essential that women support other women," Esserman said. "It is essential that men as well as women leaders are committed to diversity and equality, and that they are held accountable for making progress on these fronts.
"It is imperative that women have a seat at the table at every level of organizations and in our government."
Esserman also spoke about the work that the SAFE Center does to bring attention to the high level of human trafficking that takes place in the United States particularly in Maryland and the District of Columbia.
According to Esserman, the 13th Amendment of the Constitution abolished slavery, but it has taken a new form in sex and labor trafficking.
"The monster wears a different skin," Esserman said, referring to Frederick Douglass' statement that slavery would take on a new appearance, "but make no mistake, this is slavery and together, it is our work to end it."
The luncheon ended with the honoring of multiple awards to those that have dedicated their lives to the advancement of women in education and the workplace, and serving the local community.
Winners included Huntingtown High School students Alexis Hill and Danielle Frye, both of whom have been involved in many school functions and organizations.
Also honored at the luncheon were Rané Franklin, Martha Gast Rymer, Rosemary Dawley, Cynthia Thorne-Carter, Vicki and Dusty Rhoades, Cassandra Okwumabua, Darlene Harrod, and the League of Women Voters of Calvert County service team for their service to Calvert County and for their powerful influence in the advancement of women's rights.
Honorees were nominated by the Calvert Collaborative for Children and Youth, Calvert County Commission for Women, Calvert County Historical Society, Calvert County Minority Business Alliance, Community Mediation Center of Calvert, Concerned Black Women of Calvert County, League of Women Voters of Calvert County, and the National Association for the Advancement of Colored People Calvert County Branch, all of whom participated in the planning and orchestrating of the WOW Luncheon.
"An event like this is a celebration of pride and perseverance, recognizing each woman who struggles in her own way to support her family, pursue a career, contribute to her local community, and play a significant role in the world around us," WOW co-chair Grace Mary Brady said. "This event lets her know that she is not alone, that she is part of the call to action in pursuit of gender equality."